Regular price
Sale price
$14.99 USD
Unit price
per
Sale
Sold out
Cool toned Pastel Pink.
Semi-Permanent Color with vibrant results that last up to 8 washes.
Features Coconut Oil & Aloe Vera.
No Animal Testing. Certified Vegan & Cruelty-Free. Gluten Free. 
The perfect take home for your fashion color clients!
How do they work?
After performing a color service, send your client home with Uberliss Bond Sustainer Soft Pink Dahlia to electrify their fresh paint job. Bond Sustainer Color will make the hair strong and healthy thanks to the Sub Micron Technology featured in the Uberliss Bond Treatment and also extend the life of the color. 
Learn more by visiting our FAQs.
Ingredients:
Aqua/Water/Eau, Aloe Barbadensis Leaf Juice, Cocos Nucifera (Coconut) Oil, Cetyl Esters, Cetyl Alcohol, Quaternium-91, Cetearyl Alcohol, Glycidoxy Dimethicone, Glycerin, Butyrospermum Parkii (Shea) Butter, Mangifera Indica (Mango) Seed Butter, Cetrimonium Methosulfate, Tocopheryl Acetate, Polyacrylamide, Panthenol, Caprylyl Glycol, Propoxytetramethyl Piperidinyl Dimethicone, Sodium Benzoate, Polysorbate 80, Dicetyl Phosphate, Ceteth-10 Phosphate , Phenoxyethanol, Benzyl Alcohol, Fragrance/Parfum, Basic Blue 99 (CI56059), Basic Red 51.
In salon use
Apply to dry hair that is pre-lightened to Level 10 or 11 for 20-30 minutes. Rinse. Can also be used to strengthen and refresh hair color.
At home maintenance
Apply Bond Sustainer Color to dry hair that is pre-lightened to Level 10 or 11. Leave on for 10-20 minutes. Rinse. For less intense results, apply to damp hair or leave on for less time. Please note that dark hair will not show vibrant results.
Login to your STYLIST ACCOUNT for stylist pricing.
Rebuild broken hair bonds, while delivering brilliant color.
Powered by Sub Micron Technology featured in the Uberliss Bond Treatment. Patent pending.
View full details
Customer Reviews
05/16/2022
Claudia R.

United States
Product separated and crumbled
I order three bottles of soft pink dahlia. The bond sustainer was crumbly, separated on all three bottles, and it had a horrible greasy texture. When I tried applying the bond to my hair it was ridiculously hard to apply and wash off the grease it left behind. Definitely not happy with this experience. It has been a complete waste of money!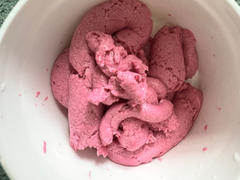 07/19/2021
Melody L.

United States
Problem solved!
Did not want to pay more money to the salon to fix my fading hair color so I tried this. It totally made my hair the color I want (rose gold!) My stylist initially colored my hair "Midnight Pink" which was too much for me, so I waited for it to fade. As I washed my hair several times the fade looked really bad. Plus my bleached hair felt like straw. This bond sustainer helped make my hair soft again, it smells good, and I got the rose gold color that I liked.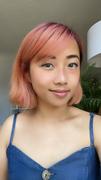 07/15/2021
Sharon C.

United States
02/05/2021
Phree b.

United States
11/05/2020
Kristina N.

United States
Good Stuff!
I used this for Halloween on my hair. I have blonde hair, but i haven't gotten it highlighted in two months or so. I used one bottle of Pink Dahlia on my hair and it definitely tinted my hair very pink, i wouldn't say dyed though. It washed out completely after a wash or two. It made my hair really soft also! It's good if you're looking for something temporary. Obviously if you just recently got your hair bleached, it would look a lot more intense.
08/13/2019
Rachel P.

United States
If you have colored hair, you NEED this
I currently have pink hair that has been bleached god knows how many times. This product is amazing because not only does it repair your hair and make it feel super soft, it also helps maintain your color! Usually I have to DIY colored hair masks to help maintain the color, but that such a hassle and time consuming. Not to mention, usually I would have to do 2-3 hair masking routines every time I wash my hair (1 mask for repair, 1 mask for color maintenance, sometimes olaplex no.3) which nobody has time for. This bond sustainer cuts down this process to just one product, which saves me so much time, effort and money! I would give this product 6 stars if I could. **PS: one tip for using it, dry your hair after shampooing with a towel and then slather it on and leave it for an hour (they say 20 min, but an hour works better). You can just tie your hair in a bun and go about doing stuff because it won't drip out of your hair. Then wash your head with cold water and air dry your hair. I swear you will have such smooth and soft hair after.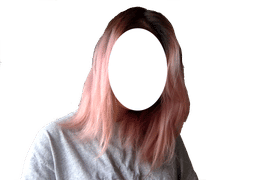 Pink hair
I'm a licensed cosmetologist for over 17 years. I love using Uberliss in between my color services for myself to maintain my pink hair. I use the pastel pink & occasionally mix in other pink. Uberliss makes my hair feel soft & doesn't damage my hair.
05/14/2022
Ashley B.

United States
Always come back to this color
I have had pink hair many times in my life and I always end up trying new stuff and regretting it. This pink is my favorite tone and I always come back to this color. I just wish they made bigger bottles.
11/28/2021
Quoc S.

United States
Cool toned pink
Finally a cool tone, blue based pink color! After use, my hair looks much healthier.